Refrigerated Shipping Containers for Sale
Our Frozen & Chilled storage containers are available in sizes from 10ft to 40ft and are a simple solution to your temperature controlled storage problems.
All units are constructed with food grade stainless steel interiors, with flat floors and entrance ramp. They're fully secure, and fitted with single handed operation lockable doors.
Unique Benefits
Flexible hire periods, Lease purchase and sales new or used.
Dual temperature range: chilled or frozen.
Computerised temperature control with digital display.
CFC free build and 404A refrigerants.
Near silent running machines in both 440v, 3 phase and 240v single phase power supply. Particularly suitable for use in residential areas.
Food grade stainless steel interiors.
Non-slip checker plate flat floor and loading ramp.
Internal emergency personnel alarm and lighting.
Safe and secure, with unique one-hand patented door operation.
40′ containers fitted with additional side door entrance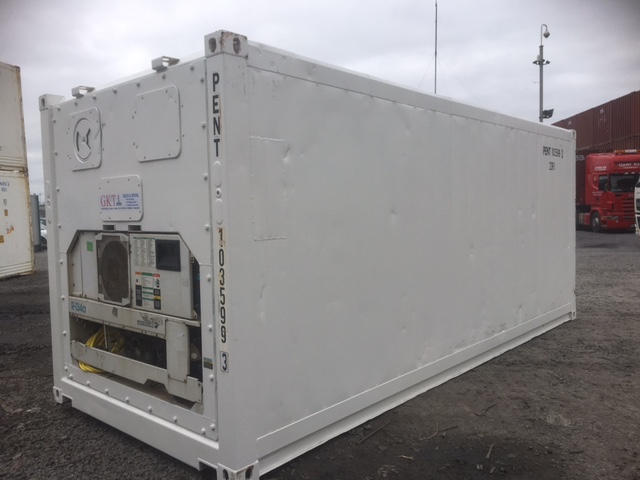 FOR SALE: USED / REFURBISHED 20FT & 40FT REFRIGERATED UNITS
Photos are used units with below checks carried out units sold as seen
20ft & 40ft  reefer units refurbished and Painted. Machinery in PTI'd condition.
Units run through a thorough test.
We run the unit to Zero Degrees which will need to hold for ca 60 minutes.
We then run through Defrost Cycle and ensure passes within time spec's.
We then run unit through Frozen cycle (to Minus -18 degrees Celsius). Once held for 60 minutes we run through Defrost cycle once again
After successful completion unit will run unit through heat cycle to Plus 18. We Meg all motors. We take amp draws.
We then run unit through Units AUTO 2 PTI which is an extended Micro (self)test of unit.
We also flush evap. drain pipes and wash condenser.
Unit is repainted exterior  with white marine grade paint.
The Power Requirement is – 32Amp, 3Phase, 400Volt 4 Pin Socket – With a D Rated Motor Breaker.